Discover the environment, the climate, and the history that makes this Domaine unique.
THE

Vineyard

The vineyards are planted with 5 to 25-year-old vines on limestone soils. At first, our wine pickers select the grapes from three small vineyard plots (2 to 5 acres of land) before the crush and the cold stabilisation process. Then follows a lengthy fermentation procedure.

The result is a spectacular white wine: white flowers and stone fruit aromas with beautiful complexity, offering a well-balanced character and a clean & crisp finish.
The south-facing lands are ideally positioned between the Mediterranean and the Atlantic ocean. They benefit from large amounts of sunshine but are protected by the Black Mountains from the summer heatwaves and harsh winters. The vineyards are located slightly inland, away from the coast, which enhances the Mediterranean climate.
MARBLE QUARRIES - THE RICHNESS OF OUR SOILS
THE BALCONIES

of the Aude

The wine-growing region of the Canal du Midi is largely influenced by the Mediterranean sea (30km away as the crow flies), especially the south/south-east of Minervois.
Characterised by temperatures that are often above average, the lands are tempered by maritime influences. Rainfall is fairly well-distributed over the course of the year, ideal for maintaining the vines. There are different types of soil, including sandstone and quaternary stone terraces, allowing various degrees of filtration.
This is the most advanced area of the Minervois (2 to 3 weeks earlier for the harvest than the later sectors) and guarantees the grapes' rapid and regular maturation. This is the preferred zone for grape varieties that require lots of heat, such as Mourvèdre.
WE ARE CERTIFIED

Terra Vitis & HVE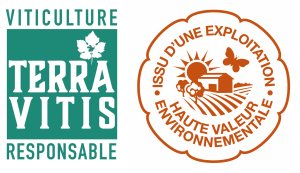 THE

Terraces

The Mediterranean and oceanic influences are mostly reduced in the central zone of Minervois.
The climate is mild thanks to its ideal location facing the Alaric Mountain and the Marseillette marshland. Temperatures are pretty high despite some cool nights and seldom rainfall. This temperate climate is ideal for the vines to develop under optimal sandstone soils and quaternary stone terraces.
The specific area surrounding Marseillette is made up of alluvial soils and is one of the most temperate zones in the Minervois region. Thus, the wines are well balanced with rich tannins, polyphenols, and anthocyanins.